How active is your kid? Do they readily help n kitchen chores or are toilet training. If they are that active, how much safety are they guaranteed?
Well, most kitchens have sinks and countertops at a higher height for toddlers. A kid will always quench for independence.
One wants to rearrange utensils or wash them in the sink. They may sometimes crave to wash hands from the sink, but unable.
That's when they'll start bothering you for support to enable reaching their desire. You may not always be there to help.
Therefore, the best toddler step stool is the other better option for reliance.
Buying kids step stool is among the bets ides a parent can implement. You may fail to realize until you notice your toddler striving to accomplish one of your duties, and they can't do that because of their height.
The stool is an incredible property that each home with toddlers shouldn't miss. Some stools are versatile and can be utilized by everyone for various requirements.
Once you decide to purchase a kids step stool, it'd be best if some factors are put into consideration to get the best.
That's why you're going through this review of the best toddler step stools. Please keep reading to know more.
Top 10 Best Toddler Step Stools of 2023
Factors to Consider When Buying The Toddler Step Tools
The topmost priority when dealing with babies is safety. Most toddlers behave as if they've got ants in their diapers.
They'll always want to move around, play, jump, and do all sorts of stuff to keep themselves busy.
For that reason, you need to buy the best step stool with the safest features for your baby's sake.
The following are some of the considerations to put in mind when making a purchase. They include;
Everybody understands how stubborn kids can be. They can't stop wiggling, unless in situations of severe sickness.
Therefore, you should find a stool with a non-slip surface with anti-skid feet to prevent sliding off. If you decide to pick a folding type, ensure it can't collapse to mess your toddler.
Again, avoid letting the kid fold and unfold by themselves, it might hurt their small fingers.
A parent should consider getting a step stool that accommodates the baby's weight.
You mainly look at the material type used in constructing the step stool for kids. It should be strong, sturdy, and durable.
Several options are available in the market.
They can support up to 300 pounds. Those with a higher weight capacity can accommodate children of all ages and adults.
Finding a stool with a non-slip grip is relevant to keep the toddler from slipping off. Many stools will have it at the feet's place.
It's mostly made of rubber with some giving trouble when cleaning, but it's worth your toddler's safety.
The rubber property maintains the step stool's stability even when used on slippery floors such as tiles, vinyl, and wood.
Most stools have soft but stable grips to ensure comfort when the child's feet step on it.
Also, stools with non-skid feet are excellent for avoiding gliding that might send them to the ground. The experience is horrible, you better be keen.
Go for a toddler stool that's lightweight for easier movement around the house.
You'll realize most step stools having grips for enabling the child to pick up and take it wherever they wish to.
It could be the toilet, bathroom, kitchen counter, among others.
Some stools easily fold for storage convenience, maybe under the bed or sometimes in the cabinet.
Top 10 Best Toddler Step Stools 2023 Reviews
Getting the right stool for your toddler will enable those shorthands to reach the countertops and sinks.
The product may be underrated that one may never think of it until a friend defines how good and relevant it is.
It feels nice seeing your toddler wanting to do things on their own, keeping you company or otherwise.
Let's look at what earlier buyers of toddler step stool say, too help pick the most suitable for our kids.
Be sure you'll love the two-step stool for kids by iLove. It's packed in twos.
The user can have one at the sink and the other potty training- it's a toddler step tool for toilet training.
Its double height is favourable for children growing very fast.
It's very lightweight for convenience but strong and durable. Its versatility enables use almost everywhere around the house.
The step stool is made of non-toxic material, thus harmless for the child. It has a good grip, hence offers the required stability when used.
It has thick slip rubber make at the feet for proper grip on the floor. Thus, gives additional safety, secure footing for the child, and comfort.
It's great for helping kids grow independently as they help in various chores in the kitchen.
The stool's feet perform excellently on dry and clean oil-free surfaces.
The plastic base can accommodate up to 175 lbs. The lower step measures 5.5 by 5.5 inches deep. The material used is BPA free and eco-friendly. Any stain is easily wiped out to clean.
The Pros
Highly durable and portable.

It's lightweight.

It's made of non-toxic material.

Great grip for stability when handling.
The Cons
It may be narrower for some kids.

It's shorter for some toilets and sinks hence harder for kid's reach.

Faster growing kids may outgrow it after some time.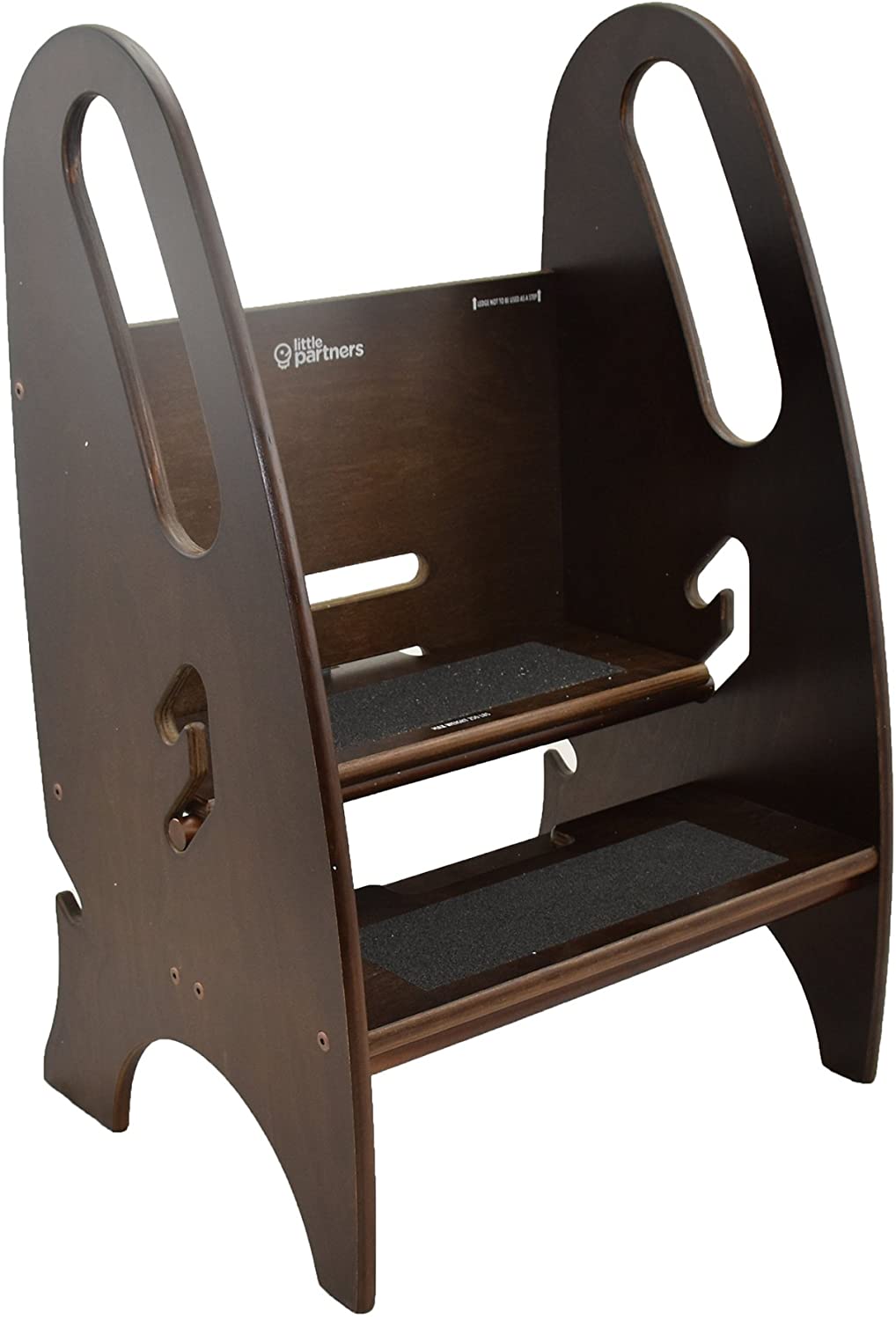 Do you want a reliable step stool for your child?
If yes, choose Little Partners Toddler and Adult step stool. It's a wooden step stool featuring a solid and sturdy wood constructed body.
It's an adjustable step stool for toddler suitable for all ages.
Its three different heights with an adjustable lock enable customization depending on the user.
Kids can use it for learning the basics ranging from reaching the sink to wash hands or brush to getting something from the counter.
Furthermore, its sturdy design makes it durable and supports up to around 250 lbs.
It's the best toddler step stool with rails. The inbuilt safety handrail grips provide toddlers with independence and confidence in performing their endeavours.
The adjustable characteristic enables provide kids with the efficiency needed when in use.
It further has non-toxic material with a clean, soft whitish finish.
Therefore, it's a safe product and harmless to your child.
Its dimensions are 20'' by 18'' by 32'', which fits both children and adults.
Its maintenance is simple because it contains non-toxic paint that wipes off easily cleaned with a wet piece of cloth.
The Pros
High-quality, sturdy wood constructed body offering durability.

It's safe, no tipping off or wobbling.

It's adjustable.

Non-toxic material with a clean, soft white finish.

Has inbuilt safety handrails.
The Cons
It might prick your kid's fingers when copying how it's adjusted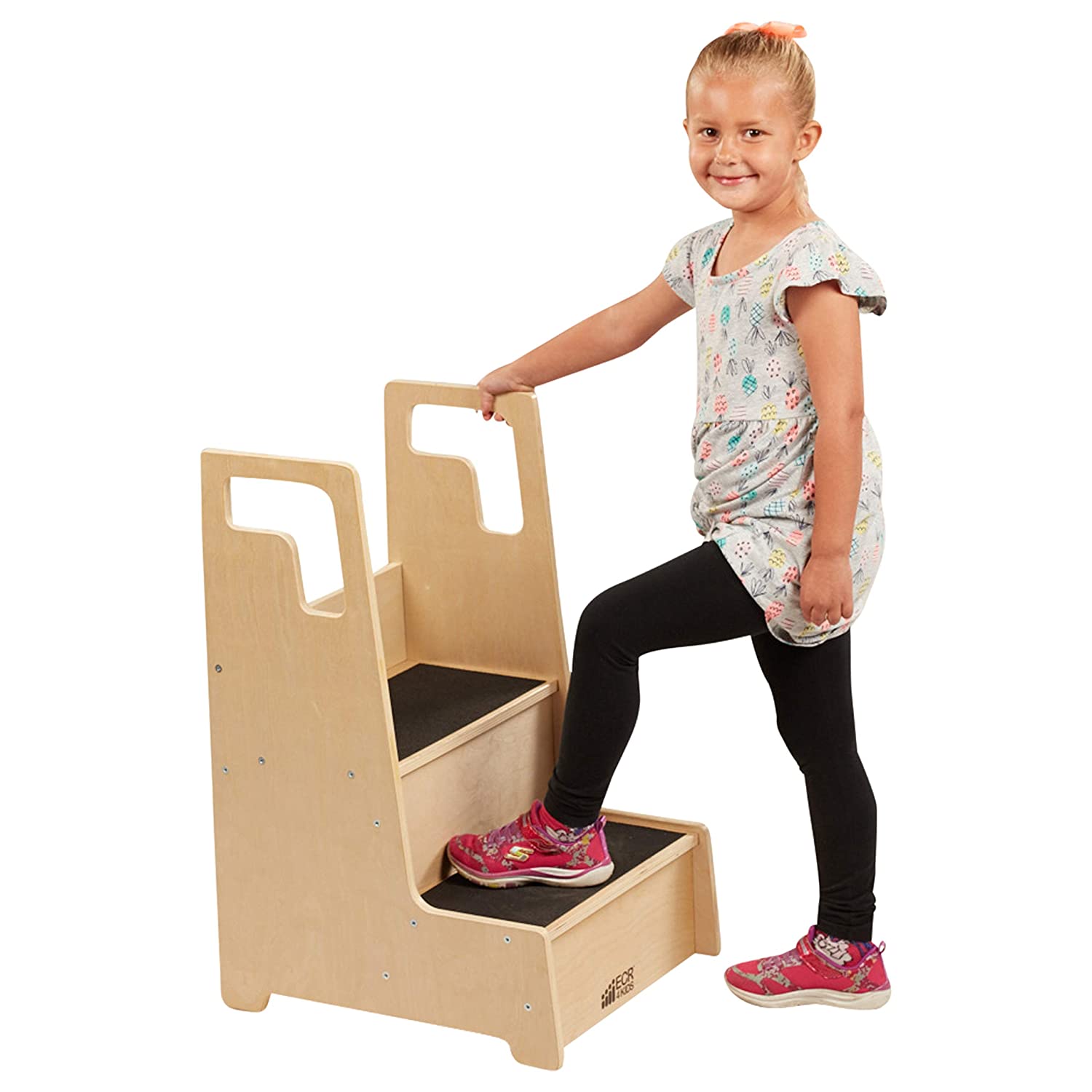 ECR4Kids is a two-step stool made of hardwood for helping kids move around reaching out to objects, it could be at home, daycare, or preschool environment. It's a step stool with handle for toddler.
The stool is toddler-friendly because its counter height step enables kids to achieve confidence in either washing hands, baking, cooking, or cleaning dishes with you.
It has an innovative design with inbuilt handles for stability and safety as the kid climbs.
The surface features a non-slip texture for preventing balance loss and slipping.
The feature also hinders kids from kicking off the stool from below it.
It's safe and certified for not emitting during use, plus its rounded edges increase safety.
Assembling the stool is easy, simply follow the guidelines given.
Cleaning is done by a dump cloth or wet sponge using warm water with a mild soap before wiping dry.
The Pros
Has rounded edges for safety.

Contains non-slip material to avoiding slipping.

Easy to assemble through following the given instructions.

Has inbuilt handles to increase the kid's confidence when climbing.

Its surface contains a non-slip texture for more safety.
The Cons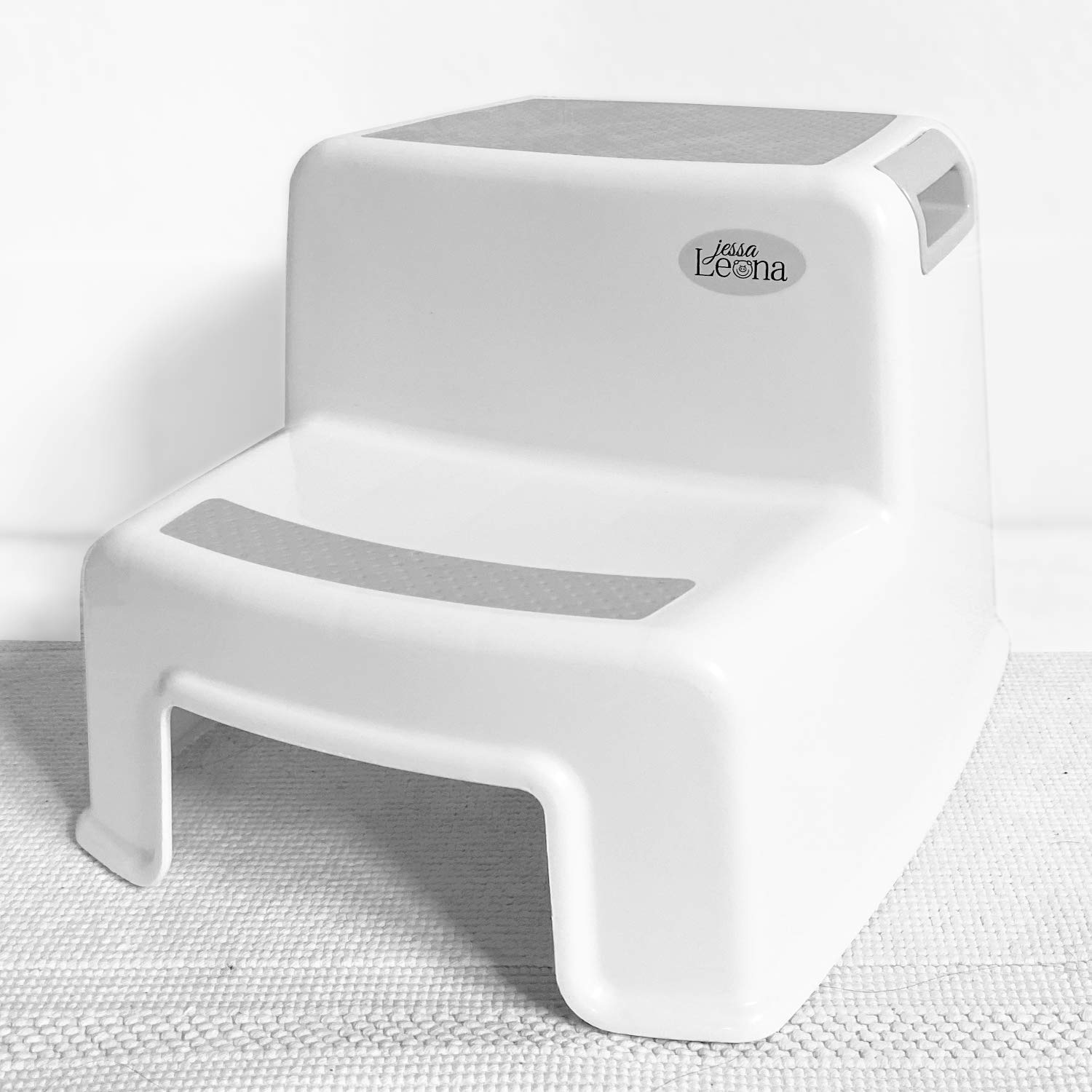 If you wish to get a toddler safety stool that gives independence, buy the Dual height 2 by Jessa Leona.
The stool is stylish, easy to move, and sturdy. It can accommodate up to 150 pounds, hence serve kids in the middle toilet training era.
It's a step stool with seat for potty training characterized by neutral gray and white colour palette.
We can say it's seamless for use in the bathroom. It also helps kids reach higher heights despite their arm shortness.
The step stool works perfectly for both small and large kids.
The stool may seem lightweight but sturdy, versatile, and durable. It accommodates different heights and ages, holding up to almost 150 lbs.
No tipping over due to the slip-resistant design, which assures safety on most floor types, and is easier to clean.
Its soft-grip steps provide comfort to the little child's feet and support their need.
The Pros
It has a dual height that serves both small and big children for their age.

Lightweight step stool, but strong.

Has anti-slip material to prevent tipping over.

Easy to clean.
The Cons
Quickly looks dingy as its groove accumulate dirt and crud.

Its steps may be shallower for some children.

Its base isn't weighted sufficiently to add confidence to your kid, though it doesn't topple easily.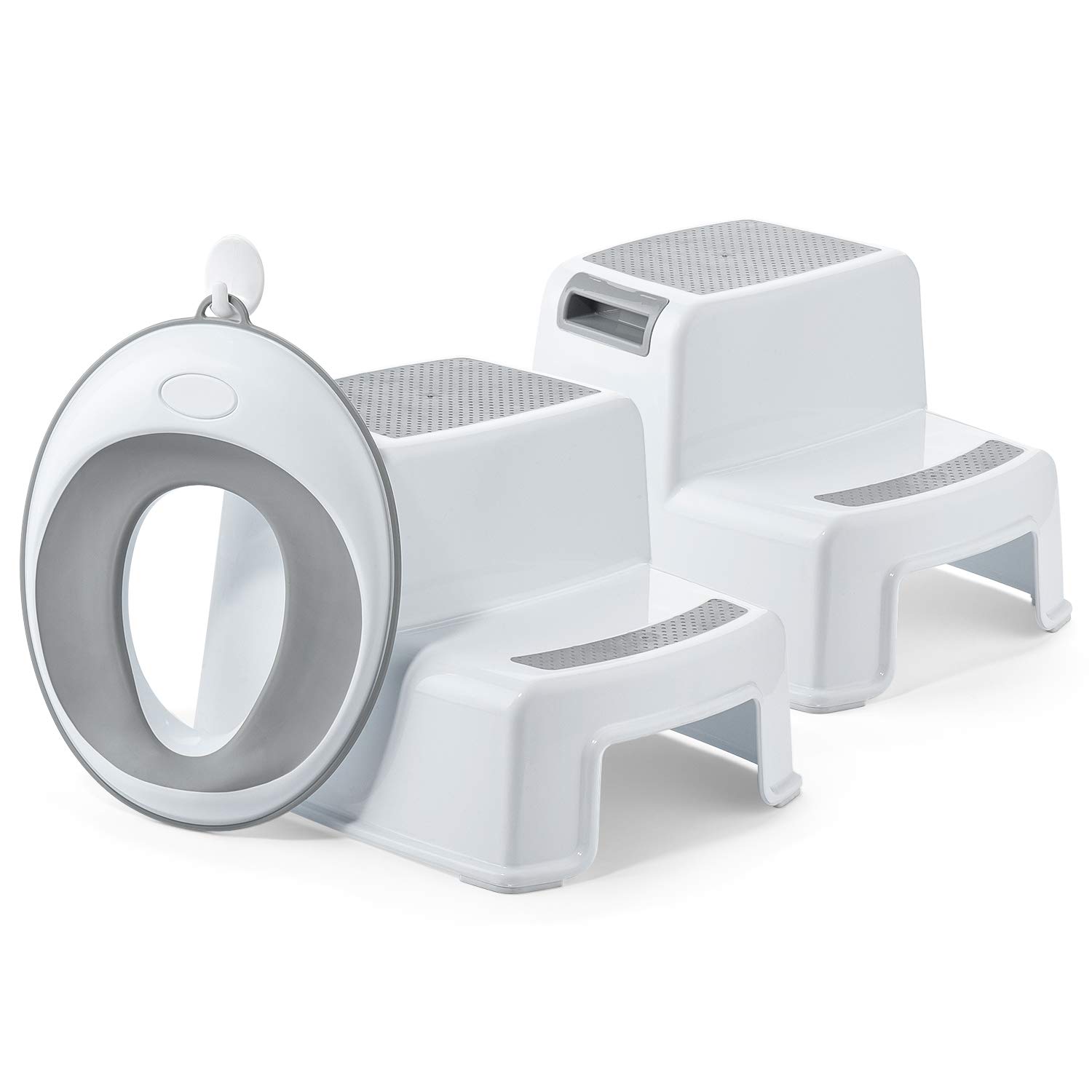 Your child needs a step stool that assures safety every time it's in use. The ACKO 2 Step stool is a top option for such. Its toilet training is larger than others with non-slip material.
The two surfaces are entirely made of soft-grip rubber, gray in colour. Again, the stool is built with plastic material for a more extended service, security, and stability.
The double step stool is sturdy and stylish, ensuring its strength counters any possible stress induced by the baby when stepping.
It bears nearly 330 pounds, therefore, damaging may not be a worry if left with your toddler.
The stool is made to grant your child independence- assist in using the toilet, climbing on the bed, brush teeth or wash hands at the sink, and get staff from taller surfaces.
It's 100% plastic that's BPA free, meaning your child is safe from chemicals that temper with a child's growth or mental capacity.
The Pros
Has a non-slip bottom.

Has handles for easier lifting.

Contains an improved folding bar to avoid collapsing.

Provides storage convenience.

Promotes your child's exploration and independence.

Can carry around 250lbs.
The Cons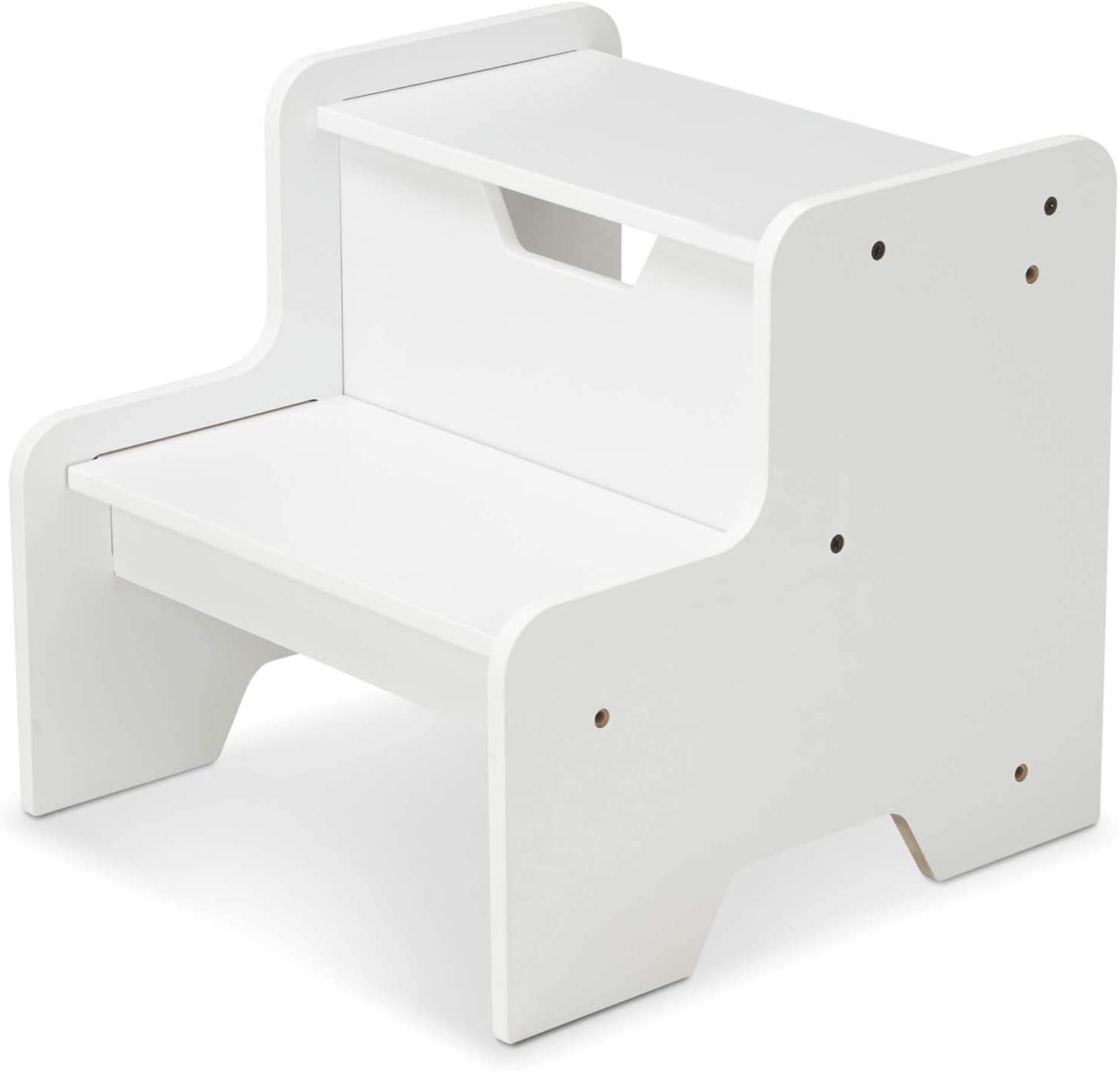 Melissa and Doug is a two-step stool that comes in either white, expresso, or natural, hence easily fits in almost every home décor.
It's used in kitchens, bedrooms, playrooms, and bathrooms. Its straight back enables pushing against the wall or cabinet.
Carries up to 100 pounds and measures 14 inches high.
The Melissa and Doug step stool's height serves children while at playgrounds, preschool surrounding, kitchen, and others.
It's suitable for children of age three and above. It's highly portable, making it easier to move from one room to another.
A child is able to apply to craft at the counter, wash hands from the sink, helping serve staff in the kitchen, or brush teeth from the bathroom.
It works properly for kids from three years onwards. It's easy to assemble using five simple steps as guided by instructions- using a Philips head screwdriver.
Previous buyers have recommended the step stool because it serves its purpose as described.
The Pros
Found in three colours.

Holds up to about 100lbs.

Offers higher access than the other stools.

Useful for children above three years.
The Cons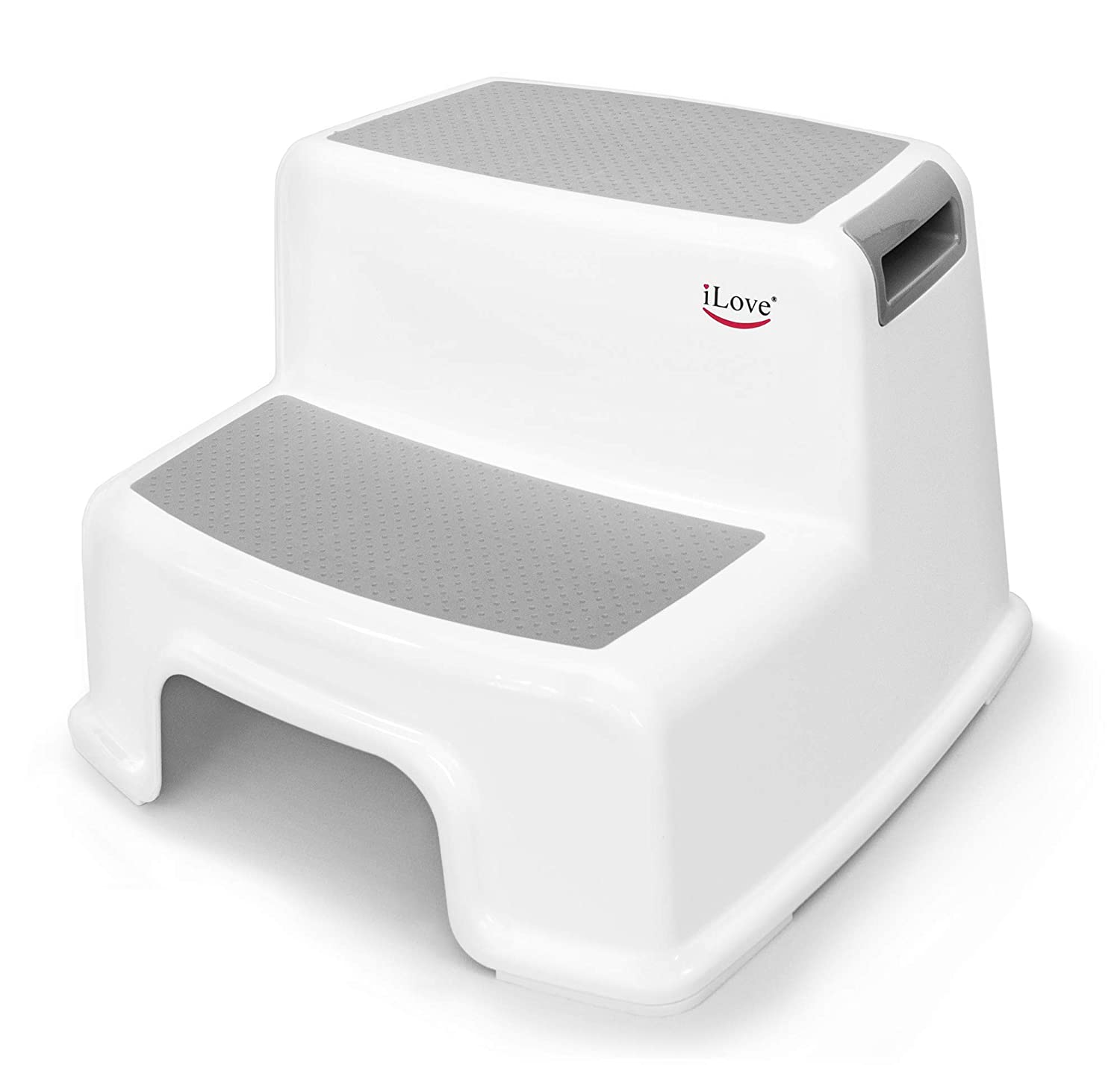 The Wide + 2 is an inch deeper and two inches wider than its competitor designs. It's a toddler stool for kitchen, bathroom, playgrounds, and preschool use.
It comprises extra turning having four times extra thick slip made of resistant rubber feet for stronger floor grip.
It differs from the rest of its type that has thin plastic bottoms.
This stool has a gray soft grip rubber covering both of its two surfaces for additional safety and secure footing. Its dual height model enables kids to be independent.
They transition from one stage to the next such as toilet training to washing hands, brushing, and reaching cabinets and countertops.
It works perfectly on dry and oil-free surfaces. Even though it's lightweight, the step stool is stackable, portable, and built with a strong plastic base to give more extended life. It bears up to 190 lbs.
The stool measures 10.5" high, 15.5" wide, and 10.5" deep, and the first step has 5.9" deep and 5.6" high.
Additionally, it's clean and stylish, having non-BPA and non-PVC materials, hence environmentally friendly.
The stain-resistant body enhances easier wiping for cleaning. The gray colour and incredible use match most house decors, and you won't regret buying.
The Pros
Non-BPA and non-PVC making it eco-friendly.

Its premium design is unique with a wider stance for more turning space to kids.

It has full-grip resistant grey slip made of rubber for extra safety.

Has four times wider feet for more surface grip.

It's lightweight but long-lasting.

It can survive heavy loads and stress.
The Cons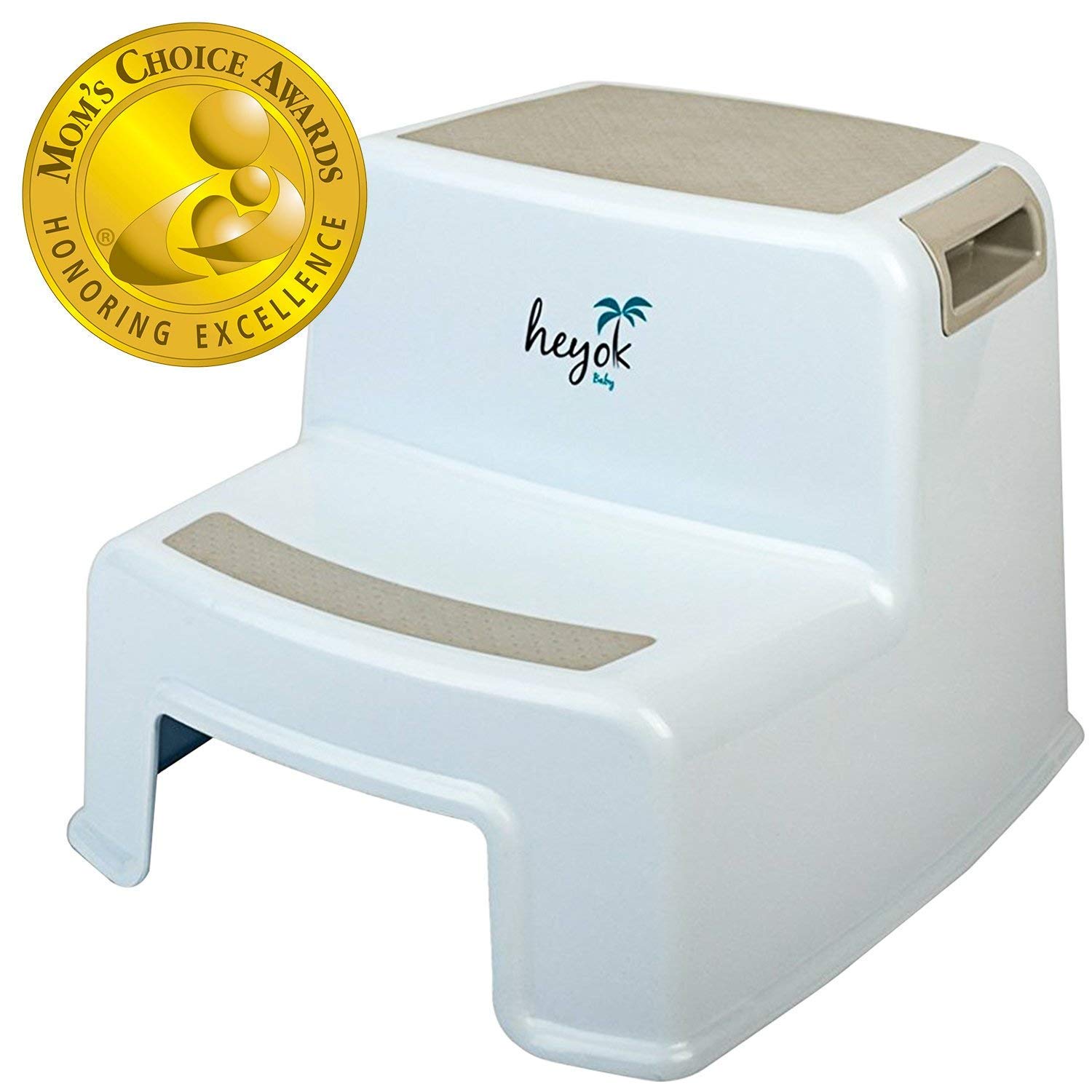 Dual Height 2 is a toddler step stool for sink, bathroom, kitchen, and countertops.
It perfectly serves children learning basic life steps as they grow, giving them independence. The stool is safe for your toddler's use. It lacks sharp edges for more safety.
Besides, it's made with anti-skid feet offering maximum stability- no slipping off when the kid is on top.
You can be sure of secure use on all floor types. Its soft-grip steps are great for comforting the kid's feet as they step.
It can help the kid train using a potty, maintain balance, and brush teeth. The step stool is lightweight with a lot of ease to set up and use.
The toddler can always carry it around without help. It's also sturdy, stylish, and versatile. The stool bears with the fast-growing kids' rate.
However, the dual height model covers various ages and heights. It's lightweight and measures 10.3" high 14" deep and 12.7" wide, making it easier to move around by the toddler.
The Pros
It's a multifunctional stool.

It's lightweight.

Lacks sharp edges for kid's safety.

Has anti-skid feet to avoid slipping.

It's a two-step height stool.
The Cons
Its lower step isn't deep enough for all kids, hence compromise the independence and they'll ask for help.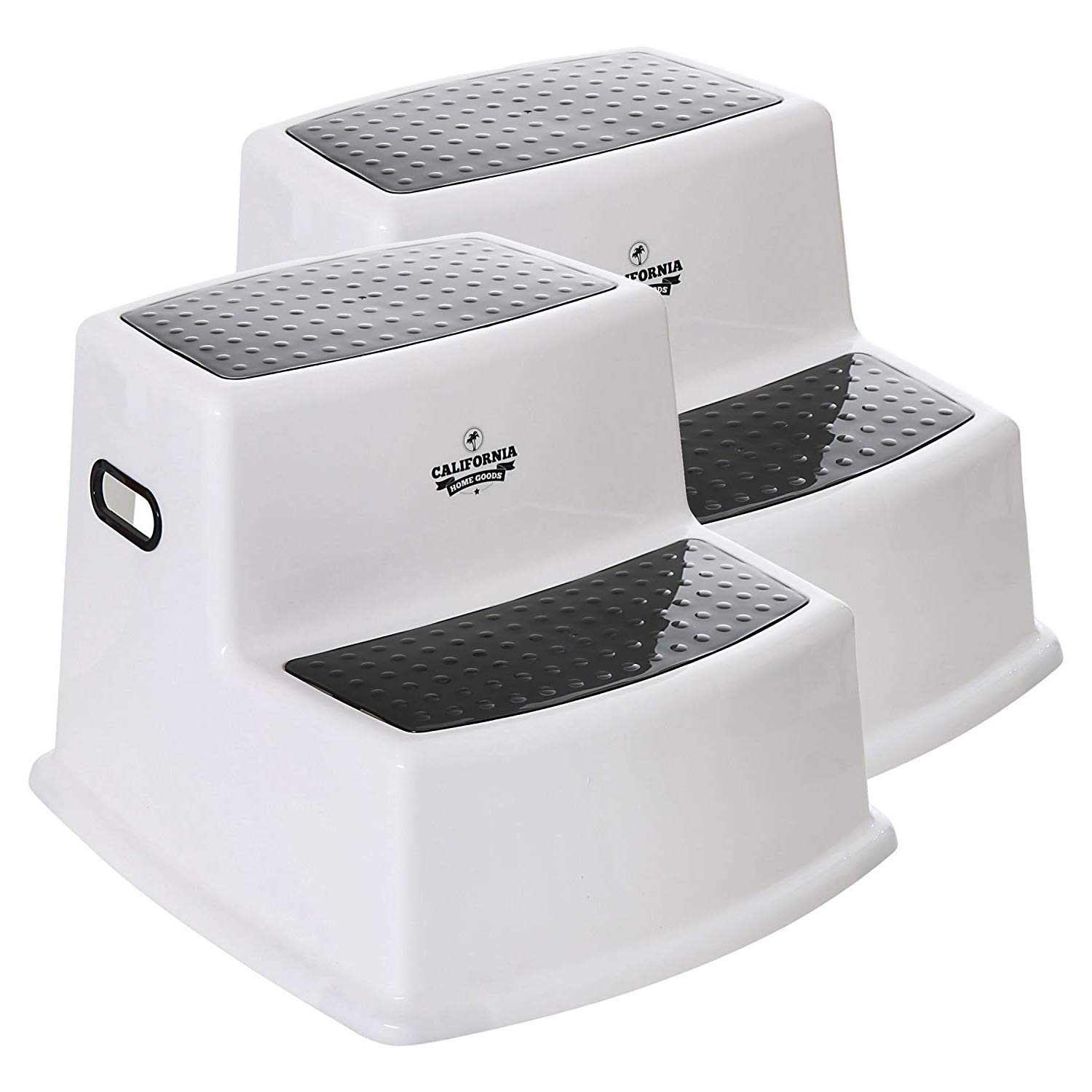 Single height step stools may not work well for toddlers, especially the younger ones.
If that's the case with your kid, California Home Goods is the best option because it has dual height.
It's a two-step stool with a lower height measuring 5.5 and the higher 10.5 inches.
The two combinations enable even the shortest toddler to wash hands from the kitchen sink.
The steps' width approximately measures 1.5 inches, and the depth is 14 inches.
Additionally, it's safer because of the BPA free material. No toxic plastic will be in your kid's surroundings.
Another essential feature is the non-slip surface and base for the toddler's safety.
It's loaded with a non-slip rubber material at its base of the four legs to prevent budging when stepped on.
It's also packed with an additional coloured rubber with some texture inserted on one of the steps for more safety and grip.
The Pros
It has a dual height.

Contains non-slip rubber material at the surface and base for safety.

It has BPA free material giving the child a harmless environment from plastic toxicity.

Comes in a two-pack.
The Cons
The surface slips every time it gets wet.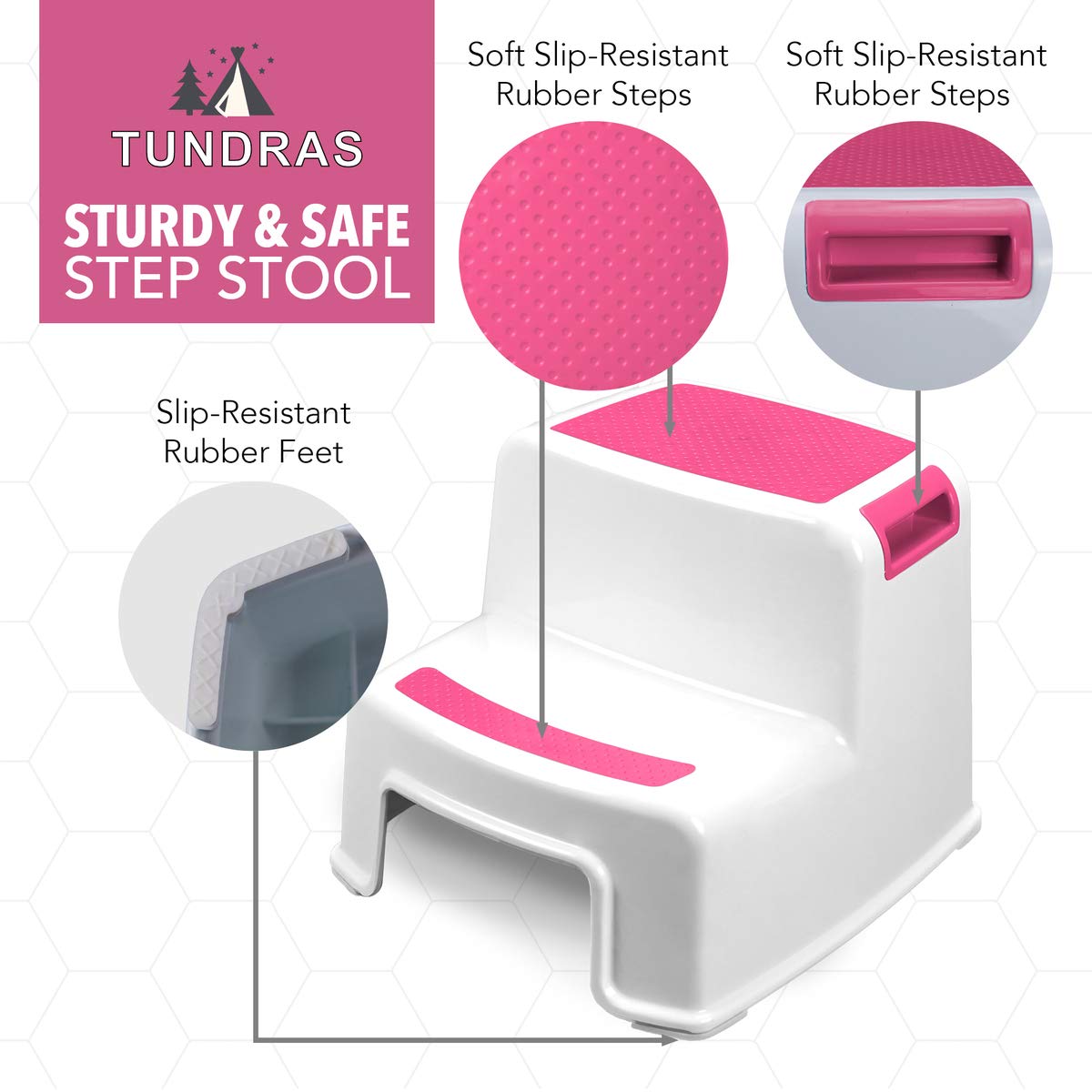 The two step kids step stools from Tundras is great for each kid's need. It's a multipurpose step stool.
For instance, it may help your kid learn brushing, hand washing from the kitchen sink, and potty training. Count it as the best stool for toddler potty training.
Be sure of safety due to its anti-slip make both at the bottom and top surface. It helps secure the kid from falling or slipping when using the stool.
This stool is available in a nice sleek model. While the material is lightweight, it's durable, thus serves for longer.
It's also portable, making it easier for the toddler to move around within the house.
The step stool is unique because it's the only with a bigger weight capacity.
It's again very tall enough to help kids do a lot with more efficiency.
The Pros
It's lightweight but durable.

Sleek and ice model.

Contains anti-slip material both at the top and bottom surfaces.

Serves several purposes to kids.

Has a higher weight capacity.
The Cons
Is slightly shorter for other functions except toilet training.

Made of simple design.
The Bottom Line
The best step stools for toddlers are available in various seller stores, including Amazon.
Each, as looked at in the review, has its outstanding features and characteristics to help your children learn more.
You should buy the best step stool depending on your kids' needs. There are various tips for considering when buying a step stool for toddler.
For instance, you should be warned against buying a folding step stool. It's because it has hinges with narrower spaces in between, ready to torture your kid's tiny fingers, thus are risky to buy.
Kids learn by imitating what they see and hear. They're likely to copy how you folded and possibly have their fingers trapped.
Most toddler step tools also are multipurpose. They serve not only kids, but others also assist adults.
Don't forget to invest in a two-step height stool. If not, then you can buy a lightweight for easier change of position.
It's never fun carrying around a heavy step stool, more so when having a toddler in the arms.
As a parent, you should also pay attention to the durability of the material used for making the stool.
It should be strong and sturdy and non-skid at the base or top for more safety. The two-step is excellent for added height for the toddler to reach high.