Having a Baby is one of the most joyful moments in most marriages. However, taking care of a baby is nerve-wracking things parents can ever do, and it is hard for parents to figure out what exactly babies or toddlers want from them.
Taking Care of a toddler is even tougher. At that stage, they start exploring the surroundings, begin to crawl and walk and start noticing many things out of their curiosity.
Parents always pursue their moves and actions they take with the environment and always worry about when they hurt themselves.
Toddlers usually get into trouble if their moms are not careful and get hurt easily or even killed depending on what he got themselves into.
As a busy mom, inspecting them around all the time is not an option as you certainly have a lot of things to do apart from looking after your baby.
To ensure safety, moms used to think a lot until they come across to retractable baby gate.
Top 10 Best Retractable Baby Gates of 2023
A baby gate is mainly a barricade used to keep kids in a safer environment when they play while their moms are doing other household works.
It also used to keep them out of some uncertain places where they might end up hurting themselves.
Besides, it assures that a baby in the perfect and safer zone where parents wanted him to stay.
What Does the Baby Gate Do?
In a nutshell, it is an essential tool to keep your baby safe and away from potentially harmful objects, situations, and other unwanted accidents, at the same time, it also protects your valuable objects away from a baby's hand.
As you already know, a child has a strong tendency to swallow some unwanted things that will harm their health.
A baby gate will protect him from crossing a specific line and never let them involve in harmful situations.
Functions of a Baby Gate
Keep a toddler away from danger and restricted to a safe environment.

Keep kids safe in dangerous places such as staircases and pools.

Prevent kids from going outside of the house.

It keeps away from breaking valuable things like glasses, vases, and other breakable items.

Protect children from reaching out of harmful chemicals, fire, gas, knife, and other vulnerable things that may hurt their health.
Categories of Baby Gates
You can find two types of baby gates in the market. The first and most popular one is the pressure baby gate, and the second one is the hardware gate.
The pressure baby gate is good, but your kids can easily override because they are easily mounted when anyone pressures the gate.
On the other hand, the hardware gate can't be easily escaped because it is not pressure sensitive and can't be mounted by a baby's touch.
Factor to Consider While Buying A Retractable Baby Gate
There are a lot of different retractable baby gates in the market, but not all are trustworthy and matched with your preference.
Besides, picking the best one for your kid can be a tough decision, and if you choose the wrong one, that would be a waste of money and effort.
There are a lot of features that a baby gate offers, but you should focus on a child's safety first and pick the right one that would satisfy especially your and your baby's need.
We are providing you some of the best features that a good baby gate should have, and that will help you narrow down your choices and help you arrive to make a perfect choice for your kid.
The things you should look at before you buy are given below –
Check the measurement of your door frame or specific space where you want to set up the gates and compare it with the gate's dimensions. You need to choose the one which fits your own measurement.
Since children love to make a mess around everywhere, you need a sturdy barricade that can swallow their actions.
Of course, you don't want to get a baby gate that would bend the first time your kid pushes against it because you know they would try to break out when kids see it the first time.
You need to make sure that you won't need to replace it within a few months. Check out the warranty terms and period before you choose one.
Most materials of baby gates are made of mesh material. Others can be made of wood or plastic.
Those are well built than mesh one and last more extended periods. Some special retractable gates are made of metal.
When you are looking for one, have a look at what they are made of and choose which one better suits your home.
It is highly advised that you need to get a gate that can easily open in case of any emergency.
If it is easily open after trying once or twice, then you should select it and take help from the guide manual if you stuck on anything.
One of the most important things that you should look at while choosing a retractable baby gate is safety.
You need to make sure that it will secure while using and open with minimal effort. Besides, you need to make sure that it can prevent your little one from danger and cross the line.
You should double-check the gate's hole so that no little finger gets caught inside the gate.
Ability to Stretch and Adjust
There is no fixed side of staircases or doors in every house, so the ability to stretch and adjust is necessary to efficiently operate the baby gates.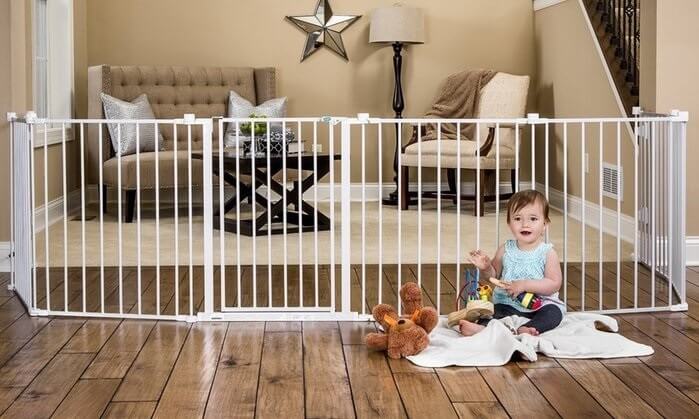 Precautions While Using A Retractable Baby Gate
There are many essential things that you should be aware of while using a retractable baby gate. The precautions are given below –
Before you start using it, take a look at the user manual that comes with it. The manual is there for a reason; if you are making any mistake, you will end up putting the gate incorrectly.
So, it is always important to follow the instructions to ensure the safety and security of your child.
Don't leave a massive space between the floor and the gate. The gap should be like small animals can crawl under the gate, and if your little one sees it, he will try to imitate that as well.
So, be aware of the gap, it should be no more than 3 inches to stop your baby from crawling under it.
It is essential not to leave the retractable baby gates very long because sometimes, your little one can attempt to climb over the top; this can cause them to fall over or getting hurt.
When they can climb staircases nicely, you should remove them.
Children imitate their parents a lot, if they see you trying to climb over instead of using the gate, they will try it. Try to use the gate, as the manual suggests.
Top 10 Best Retractable Baby Gates 2023 Reviews
We scanned through all the retractable baby gates to find out the best one for you.
You may have many requirements and questions like which one is the freestanding baby gate?
Which one is the best baby gate for stairs? Which are the best baby gates for stairs with banister? Is there any baby gate for bottom of stairs with only one wall?
Are there any extra wide baby gates available in the market? Which are the best mesh baby gates? Can you find any expandable baby gates?
Is there any outdoor retractable gate? Which are the no drill baby gate for stairs? And a lot more questions come to your mind. Let's begin –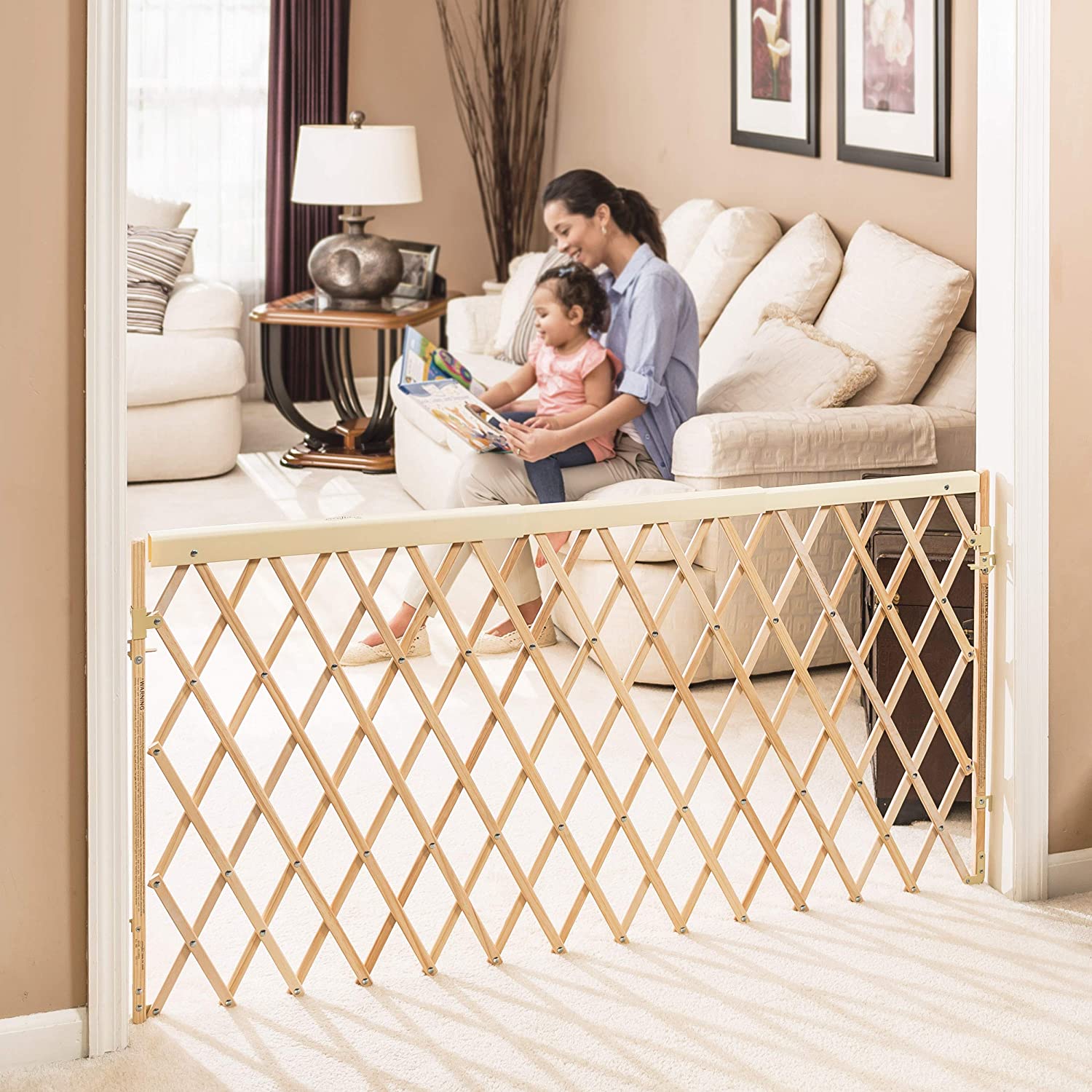 Currently, this baby gate is one of the cheapest baby gates available on the market.
The elegant design makes it more unique than others, and the capacity goes from 24 inches to 60 inches and anything in between.
This gate can be easily used in both a narrow walkway or any extra-large walkway.
Besides, it also works very well in an open floor plan and if you want to separate the kitchen room from the living room so that your little one can't get in.
This baby gate is made of wood and plastic so that your little one can grip on it and easily try to stand and move around but stiff enough to handle baby push over.
The four-point mounting system makes it easy to set up, and you need to follow the instruction manual to make the setup easy.
The unique features of this gate are that you can operate it with one hand while you can hold your baby in one another hand.
If you want to open the gate, simply lift and latch. Besides, it can be opened in both directions, and it has a plastic telescoping rail to prevent any little finger from being pinched while your little one plays with it.
The Pros
Very simple to install.

Open in both directions.

One-handed use.

Telescoping safety rail.

Wide extension.

Affordable price.

Easy opening and closing.
The Cons
Customers don't like the appearance of the plastic rail.

Not a good option to use on top of the stairs.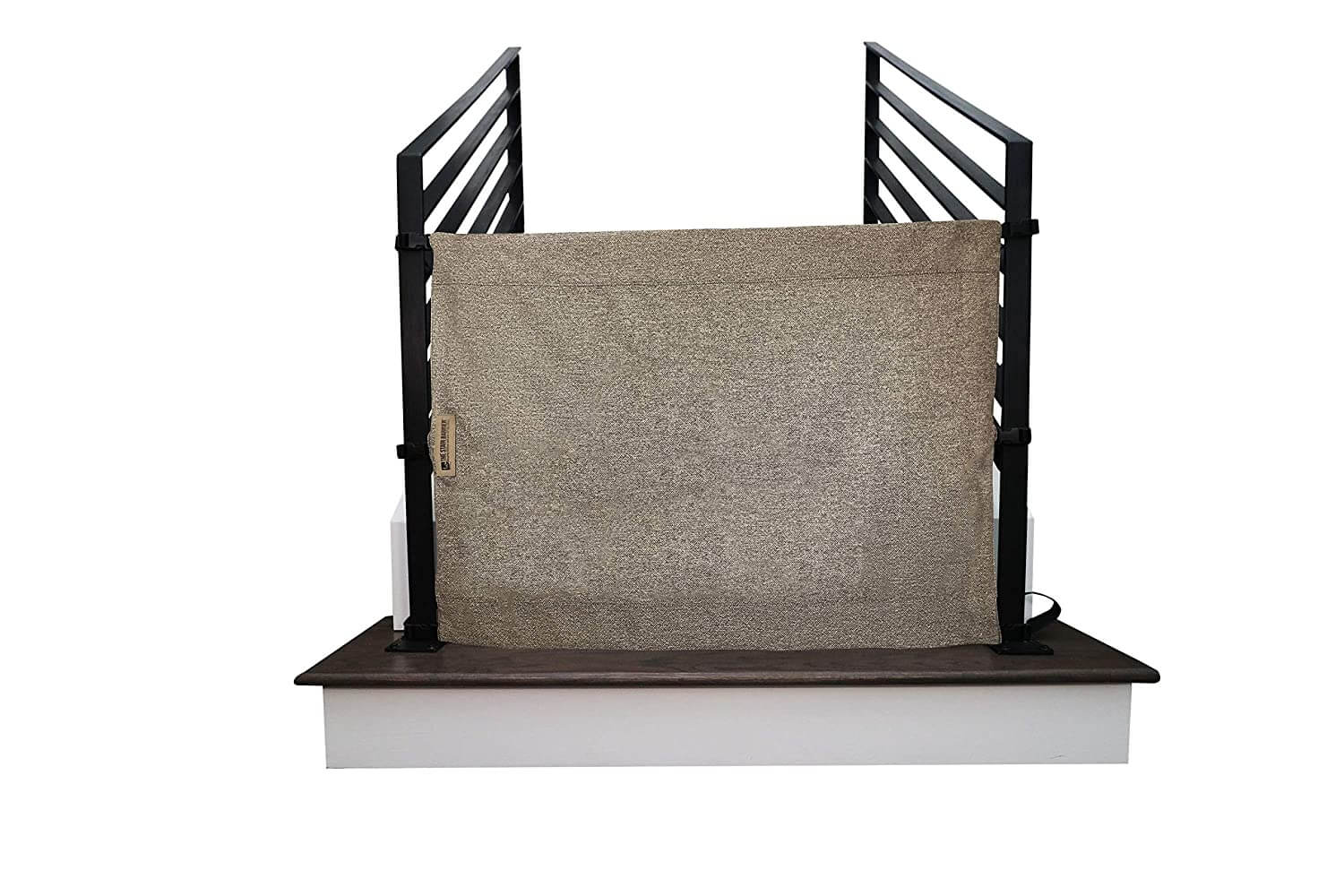 This children's safety gate is one of the best baby gates mainly used at the bottom of the stairs, and that can protect a baby from climbing staircases.
It is effortless to use because all you have to do is to roll it to one side and pass through.
Besides, it serves a dual purpose, such as protecting both your children and pets that you might have restricted to the ground floor of your house.
It is nature friendly and easily adjusts with house decoration in such a way that it will completely complement your home.
It is easily removable and portable to carry out. Moreover, it doesn't have any part that can permit your baby to cross over it or open it while locked.
It is made of fabrics that roll neatly to one side when not in use.
The Pros
Don't need to drill or assembled parts.

Serves dual-purpose like keep children and your pets away from the stairs.

Install process takes less than 10 minutes.

Portable and lightweight that can be easily carried from place to place.

It is built for any type of banister so don't worry about fitting.

It is not affected by the weather.

Durable materials choices the recycled reprieve fabric that can be used both inside and outside of the house.
The Cons
Build to use only the bottom of the stairs.

Not very efficient to use other parts of the room or other purposes.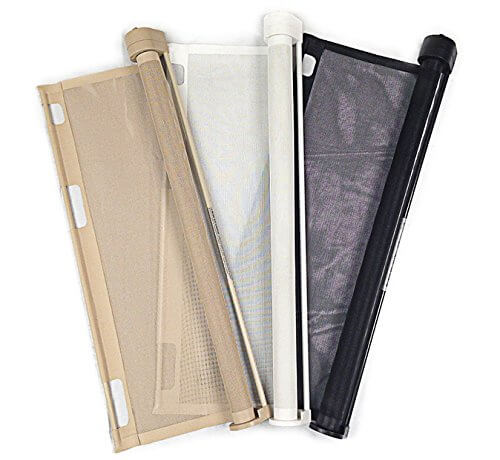 The Retract-A-Gate is an excellent baby gate for new parents, although it is a bit pricier compared to others. It can be opened to 52-inch and 72-inch designs available for extra wide areas.
It can also be used in both down and top stairs and can adjust nearly anywhere in the house. When your little one is keen to climb stairs all the time, this product is a perfect choice for you.
It is made of mesh which is scratch-resistant and easy to clean. Besides, it supports a quick wipe, which saves a lot of time, one taking it down or replacing a new one.
This is an ideal choice when your baby loves to crawl and walk around. If you feel like you need to wash it, simply remove it and wash it in the sink.
The unique features are a childproof lock on the top of the system that restricts your baby from opening it.
It also comes with a one-handed opening and closing system so that you can adjust it when the baby is napping on your shoulder.
Besides, it is easy to uninstall and quickly move to the other part of the room. It has an additional barricade if you need one and very handy as you will able to use it for many years rather than just using it for a few months.
The Pros
Use at both top and bottom stairs.

Various colors that you can choose from.

Child safety locking system.

One-handed operation.

It is made of durable fabric.

Extra Large size is available.
The Cons
Expensive.

Gap at the bottom so, children can easily escape from the bottom.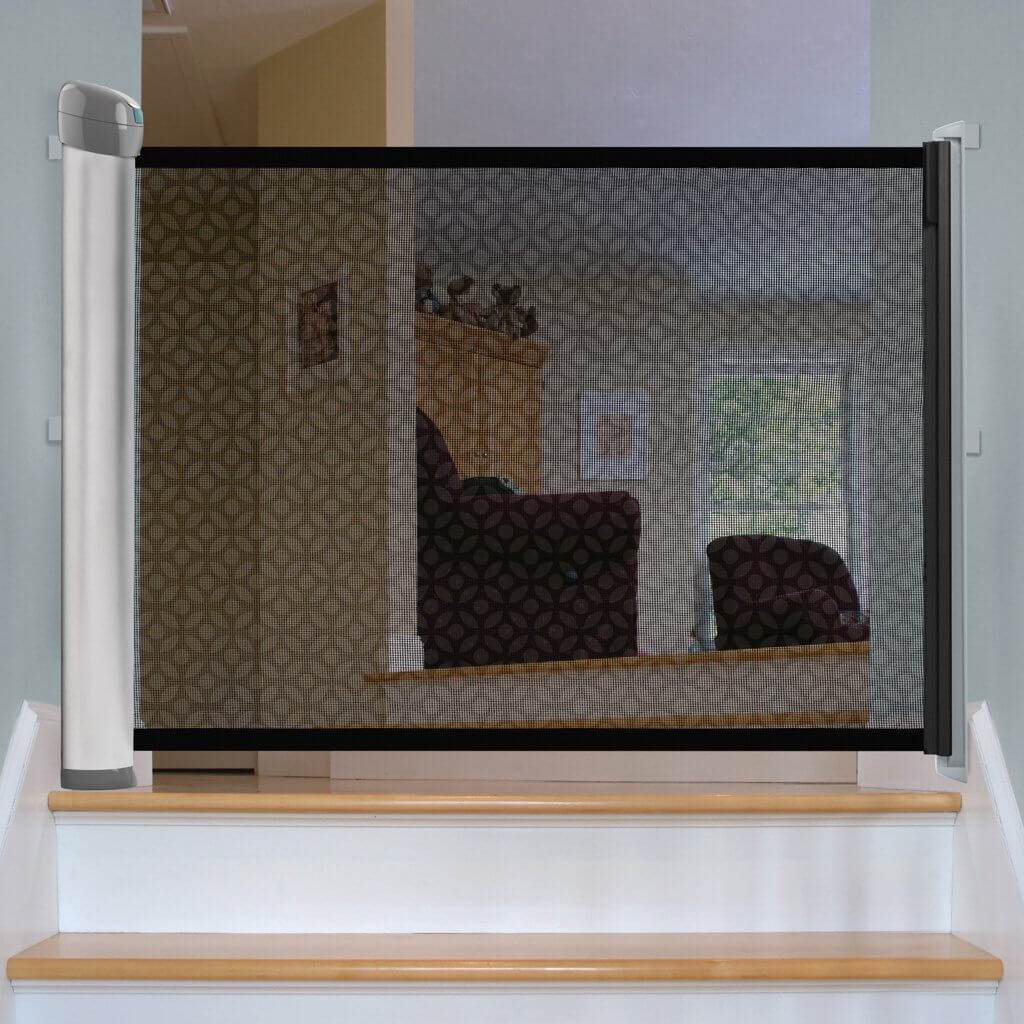 This retractable gate can be adjusted almost anywhere in the house, including the upper portion and the bottom portion of the stairs.
It also comes with added security while installing in any location. The baseboard kit attached to the baby gate, which makes it easier to attach the baby gate anywhere in the house.
The height of the gate is 30-inch, meaning you can use it until your baby is two years old.
It also extends 50-inch in length, which is great for wide walk space. It is considered a perfect product if you want to use it for a longer period of time.
The unique feature is the one-handed operation with an automatic locking system and allows moms to carry their little ones easily.
The Pros
Decorative Mash.

Has a baseboard kit.

One-handed automatic locking system.

It can use anywhere in the house.

Wide Extend.
The Cons
Moving it is not easier after installation.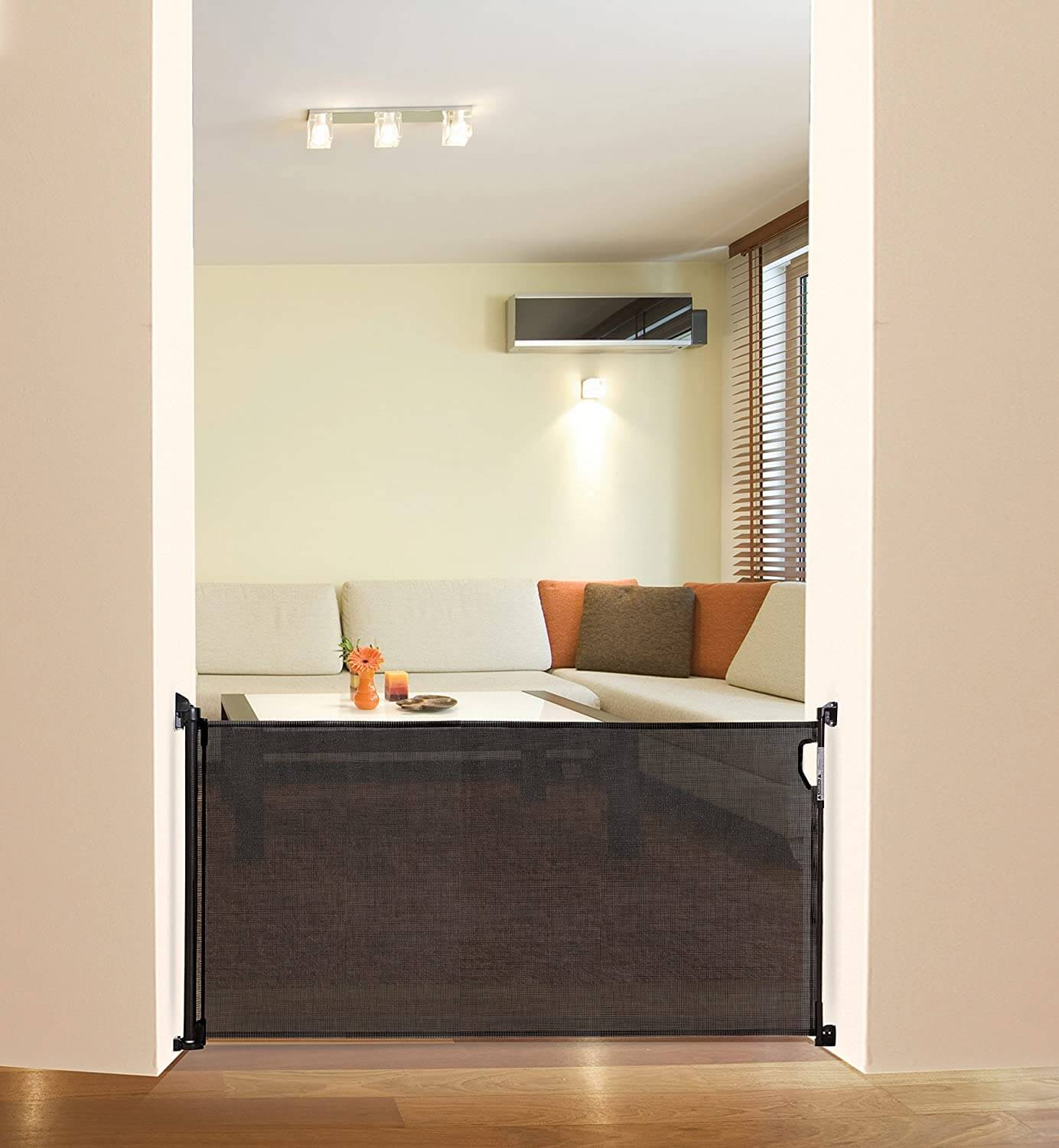 This dreambaby retractable gate can be extended up to 55-inch and can be used in more than one place as it offers two separate sets of brackets.
You can set them up in different areas by simply unclip them and move other places.
As it comes with two separate parts, meaning you don't need to buy extra gates for other locations.
It can be used both inside and outside of the house. When your baby can easily climb up the staircases, you need to protect them from going outside so, and you can use it for a more extended period of time.
The two-step locking feature is the unique selling proposition of this product, which is childproof and provides high security on child safety.
The opening and closing systems are very easy; simply press it down to open and turn the button on to lock it. This is difficult enough for the child to unlock but very easy for you to lock and unlock it.
The gate is made of aluminum and mesh fabric that can easily be retracted inside.
The cleaning process is very easy if the mesh gets dirty, and moving it to another place is also easy as it is lightweight and portable.
The Pros
Wide up to 55 inches.

It can be used both indoor and outdoor.

Two-step locking feature.

It comes with two-step hardware.

Lightweight material.

Easily movable.
The Cons
The material can be easily damaged.

An essential tool like spacers is not included.
This is another baby gate that should be considered buying while searching for the best baby gate.
This product is good at bending in such a way that you might not notice it unless you focus on it.
You don't need any manual on the installation process or operation, and the gate is easily suited to both narrow and wide openings.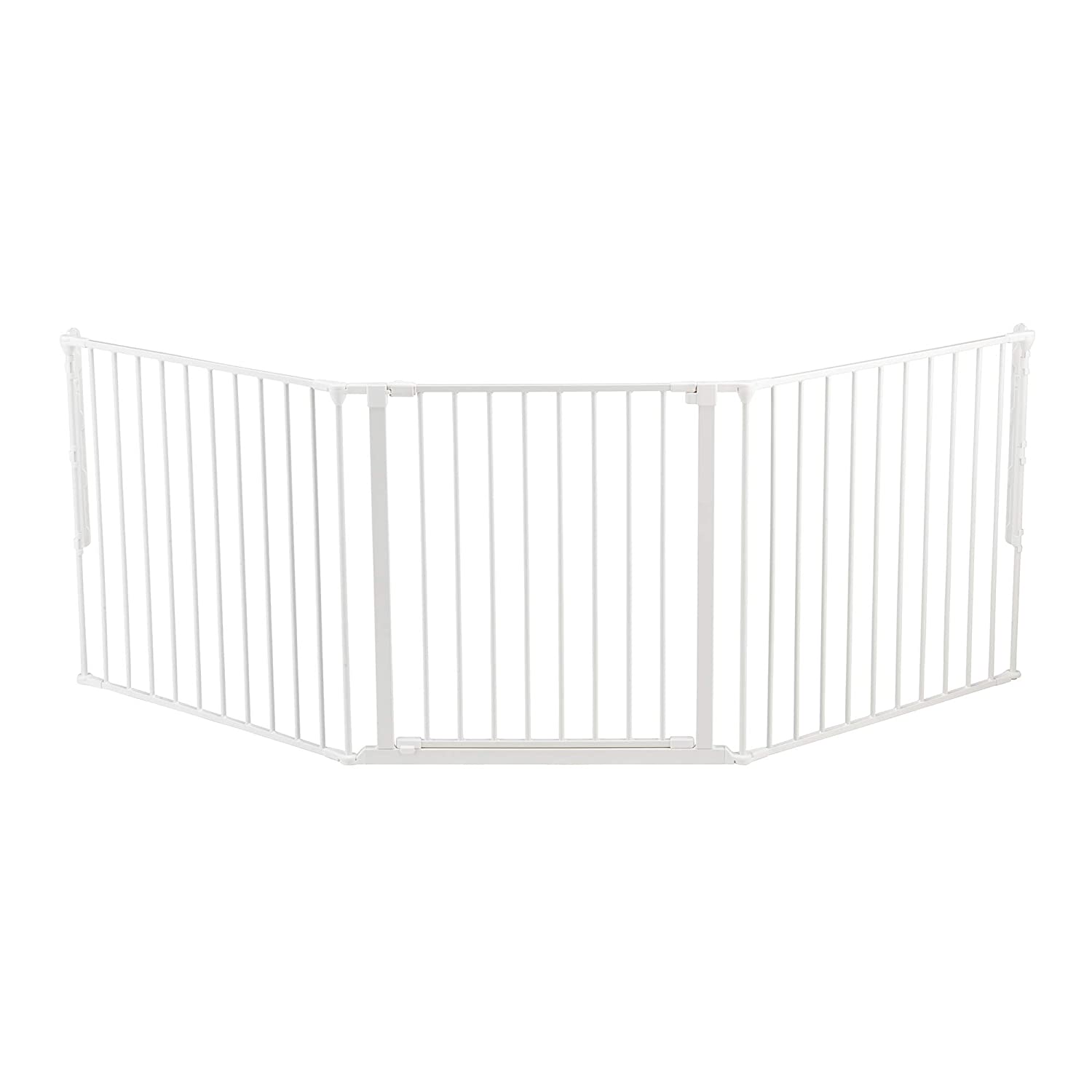 This is made of metal and can be opened 35-inch to 87-inch if you consider buying the larger option.
Besides, it also provides an extra-wide door and double-locking handle for extra safety.
The accessories include one door, two large sections, and a wall mounting kit to make the operation and installation easy.
The Pros
Pre-assembled.

Easy to use and blends quickly.

It is made of metal.

Can be used in both small and larger space.
The Cons
A bit heavier and can't be carried out for an event or picnic.
This North State gate is an extra-wide gate that is entirely open up to 62-inch, which covers a larger area of the house, such as an extra-wide walkway or kitchen space.
The gate is mounted to the wall so, your little one will never get a chance to escape or push on it.
The gate doesn't have a complete folding system, but you can unclip it from the wall and move it somewhere else.
If you want to reattach it, simply snap it back to the mounting place, and you are good to go.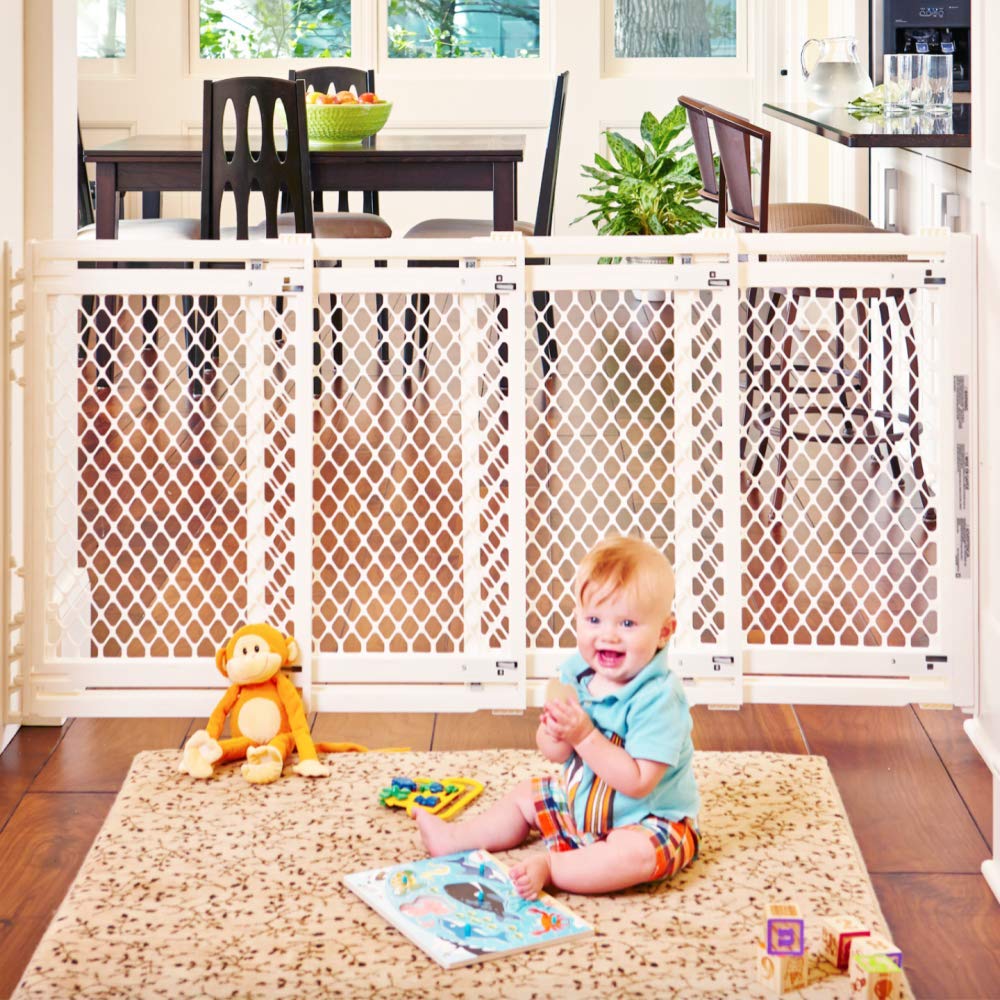 The uniqueness that it posses is the gate comes with a rounded edge at the upper portion of the gate so that no little finger will be stuck or get harmed.
This is a very essential feature as a baby tends to play and explore with everything.
The gate also comes with a one-handed operating system, such as open with one hand and close with ease.
This is perfect for busy moms who are always carrying their baby in one hand or carry staffs here and there with one hand. You don't need to open the gate fully as it comes with different sizes of opening systems.
The Pros
One-handed operating system.

Rounded Edge.

Different size of the opening.

It can be removed from the wall.

Easy plugging after removal.

Extra-wide extension.
The Cons
Locking can be complicated.

Limited opening sizes.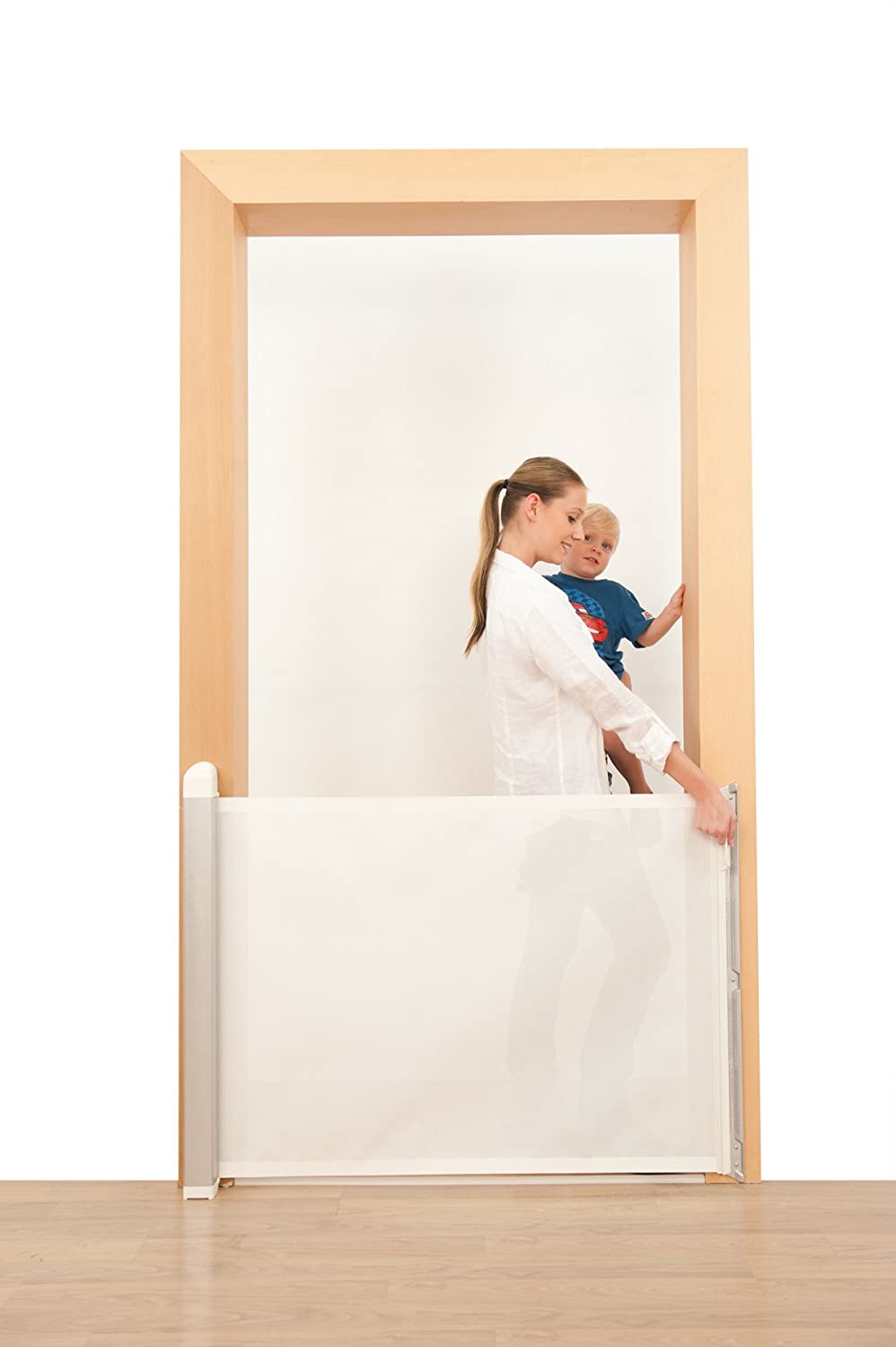 The Lascal KiddyGuard is one of the best baby gates in the market.
It is another mesh-built gate that can be used in overly crowded areas, and the operation can be single-handedly operated. It comes with a release and locking system that is easy to use.
This gate is blended easily with home decor, and you will not notice if you don't give much attention to it.
Besides, it also designed not to get trapped or don't have any risk of getting hurt. The gate comes with an instruction manual that helps a lot to adjust correctly.
It is adjustable in any place in the house, such as floor, wall, or staircase.
The Pros
Can Be installed anywhere in the house.

Blend into the decor easily

It can be packed in a frame to avoid an accident.

Easily operated.
The Cons
Its's installation is not easy.

It needs a different kit to adjust to different places.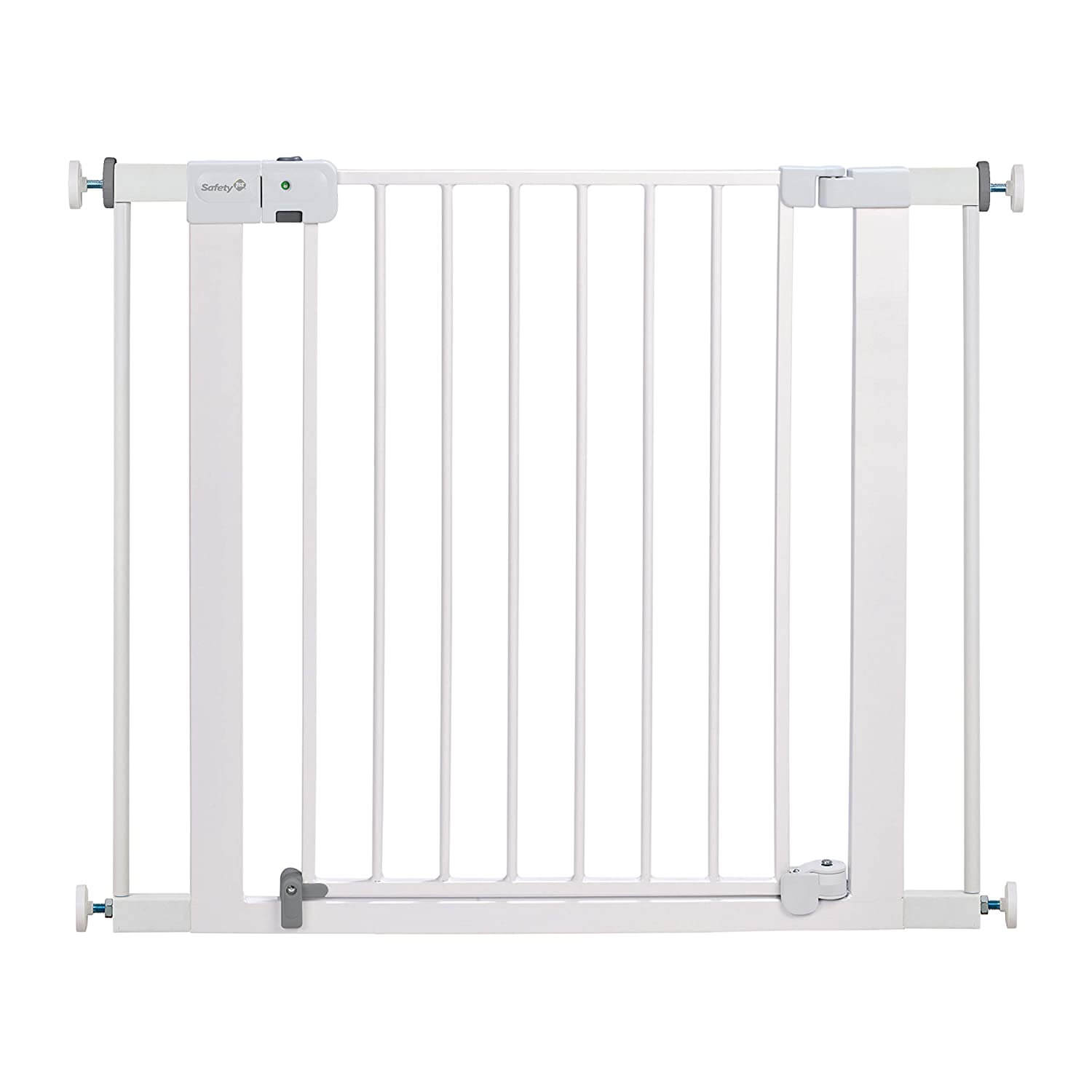 The name describes the purpose of the product. The safety gate is very easy to install and does not need any tool to setup.
It has a locker system that ensures your baby's safety before you leave your baby inside the room.
Moreover, the gate comes with a quiet mode feature and a magnetic door that close automatically. It can be used everywhere in the house, and the design makes it an additional home decor for your home.
The Pros
The locker technology assures the safety of a baby.

Easy to install.

It doesn't need any tool to adjust.

It can be used anywhere in the house.
The Cons
Not a good option to use outdoor.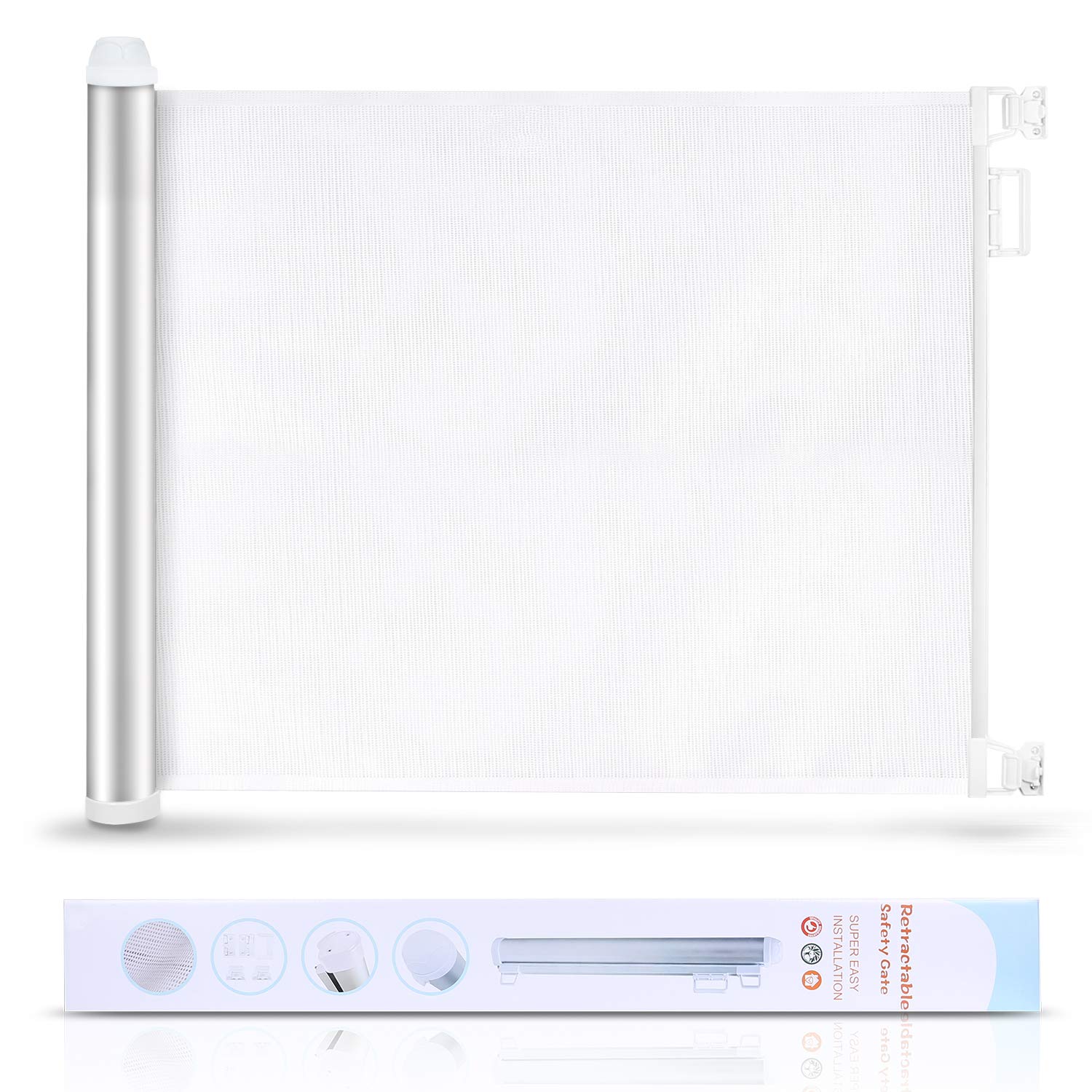 The final gate of this list is made of aluminum to hold the retractable mesh inside while not using it. It is durable and can absorb a toddler's push and pull.
This is a waterproof and rustproof gate that can be extended up to 53-inches.
The mesh is soft and comfortable to touch with a unique see-through way if you want to see your baby while working.
The two locking systems are unique features which are called child locking systems, and another one is a double locking system to ensure your baby's safety and security.
The locking system needs to press and turn to lock and unlock. It provides double protection to your baby when necessary.
It is possible to attach it anywhere in a house or wall with flexibility on folding the aluminum body, which allows you to have some extra space in your home.
The Pros
Mesh is soft and durable.

Waterproof and rustproof.

Two locking system.

Can adjust anywhere.

Save a lot of space while folding.
The Cons
The locking system is hard to use.

Mesh can be easily damaged.
Conclusion
A Baby's safety is always a big concern for parents. The gates will help them from falling from the staircase and restricts them from going outside while you are not around.
We hope you get a perfect one from the list and have a clear idea about the pros and cons of the best baby gates.